McCormack Bourrie and Tree of Life National Foodservice are featured in the May/June 2019 issue of MENU magazine by Restaurants Canada
McCormack Bourrie opens culinary centre
Originally published online at CanadianRestaurantNews.com on Feb. 28, 2017.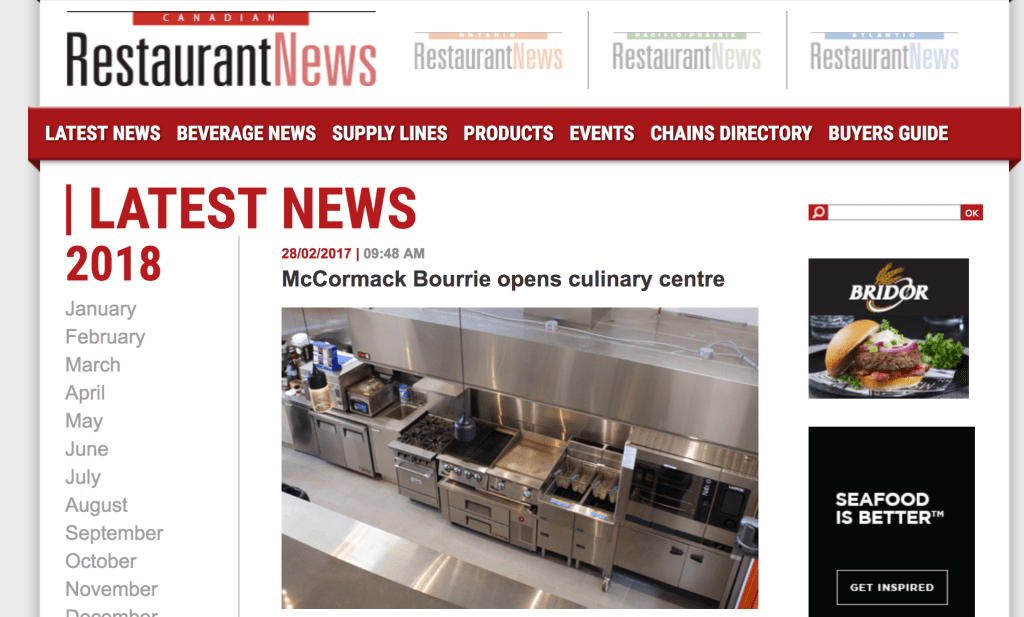 By Kristen Smith, Managing Editor, Canadian Restaurant News
CONCORD, Ont. — McCormack Bourrie Sales & Marketing has made a significant investment in the company's clients and partner brands with the addition of a test kitchen.
Located near the McCormack Bourrie offices at 160 Applewood Cres., the recently completed test kitchen features state-of-the-art audiovisual equipment, including the ability to record and live stream.
"This is another opportunity to take our company to the next level and to get closer to our customers," said president Paul Bourrie.
"We're looking at this as a reinvestment in McCormack Bourrie and our brand."
The culinary centre is designed to be flexible in its capacity and use. It can host small groups at a bar table for meetings or meals, as well as larger groups for training demonstrations or presentations.
The centre's video capability means attendees don't need to be in the room.
"We can use it for training videos, we can use it for internal sales meetings. We can have one of our brands in to launch a new product," said Bourrie.
Onsite equipment includes a combi-oven, grill, fryer, flattop and gas range as well as a sous-vide cooker and smoke gun.
"We're trying to bring in the new with the old; We've got all the normal stuff, but we've got some really cool new stuff," said Graham Hayes, McCormack Bourrie director of culinary services.
On the suggestion of a client, the test kitchen's equipment can be easily removed and replaced.
"Probably the biggest difference in this versus some other test kitchen is not only can we test food here, but we can test equipment," Bourrie said.
"If they want to ship in french fries and they want to try a new fryer, we can take the fryer out so they can test both at the same time."
Wanting to introduce the test kitchen to the McCormack Bourrie team and its 20 principals first, it was the location for company Christmas party in early December.
"It's not just a test kitchen, it also works really well as a venue to hold an event," said Hayes.
Since then, the culinary centre has hosted several events, including an annual conference for an Ontario restaurant chain.
"We even opened the door to our competitors. There were other brokers that were presenting at the same time, there were other manufacturers," said Bourrie.
"The goal is to help build the relationship with the customer, whether the customer be our distributor customers or operator customers."
Marking 25 years in business on April 1, McCormack Bourrie will hold a formal grand opening on May 4.
Recently adding the Tetley Canada and Gastronomy brands, the company represents 20 principals, none of which have their own culinary facilities.
"This allows them the same opportunity that some of the big brands have," said Bourrie.