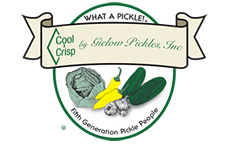 Gielow Pickles Inc.
When the Gielow family began making pickles in the early 1900?s, their goal was to make the highest quality pickle at a competitive price. Today, their goal remains the same. The use of automated packaging equipment, direct contact with growers across America, and the buying power of the market leaders enables Gielow Pickles to accomplish that goal.
Gielow Pickles has been the packer of Cool Crisp™ refrigerated dill pickles since 1970. The Gielow family has been making pickles for five generations and were the original founders of Aunt Janes Pickles. Their commitment to making a quality product at a competitive price has been their cornerst! one of success. Today, Gielow Pickles is one of the leaders in t he manufacturing of refrigerated and shelf stable pickle and peppers products for the food service industry.
Cool Crisp™ pickles are produced using a controlled refrigeration process that preserves their fresh-tasting crispness and rich cucumber color. The wide variety of cuts and sizes includes: chips, hamburger slices, spears, whole, Shredies™, gourmet fresh sweet relish, individually wrapped spears and whole.
Your customers will love the zesty taste of Cool Crisp pickles™ and pepper products. From garnishment to creative ingredient; our products meet your needs. Available in a wide variety of pack sizes to fit every food service operation.