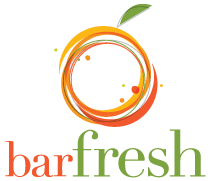 Barfresh Food Group
Barfresh, the leader in ready-to-blend frozen beverages, manufactures and distributes whirl class blended smoothies, shakes, and frappes in a way that has transformed the blended beverage industry. In 2005, Founder and CEO Riccardo Delle Coste recognized an exploding interest in the "better for you" beverage segment, so he created Barfresh. Since 2009, frozen beverages have been the fastest growing category, a $25 billion industry, with smoothies representing one of the highest gross profit margins.

Today, as consumer demand increases for healthier alternatives, two major problems arise for restaurants and foodservice operators that want to serve blended beverages - labor costs and product waste both make it all but impossible for this booming category to be profitable.

The company's proprietary, patented system uses portion-controlled pre-packaged beverage ingredients that deliver freshly made frozen beverages that are quick, cost efficient, better for you, and without waste. Barfresh beverages contain real fruit, low fat frozen yogurt or sorbet, fruit juice, and even the ice, rivaling any juice bar. Barfresh blended beverages are cost efficient with low capital cost for the operator and leave zero waste. With just a blender, Barfresh beverages deliver a great tasting, perfectly portioned, and freshly blended beverage that has no artificial flavors or colors.

Headquartered in Beverly Hills, California, Barfresh has nationwide distribution in thousands of restaurants from coast to coast including full-service, fast-casual, fast food restaurants, hospitals, hotels, amusement Parks, colleges and universities, golf courses, health clubs, and casinos.