Restaurants Canada estimates that 800,000 jobs have been lost across the Canadian foodservice industry due to COVID-19. Canada's $93 billion foodservice industry represents 4 per cent of the country's GDP. If conditions do not improve, it's believed that foodservice sales will be down nearly $20 billion for the second quarter of 2020 (1).
As the impact of COVID-19 continues to ripple through the foodservice industry, delivery and takeout are a critical part of a successful strategy. Ensuring consumer confidence while protecting team members and customers is incredibly important.
With over 25 years experience as a foodservice broker, McCormack Bourrie Sales and Marketing offers some insights to help operators serve consumers while navigating through unprecedented times.
Include and Communicate Additional Sanitary Measures:
Consumers are feeling uncertain about the safety of takeout and delivery and this provides operators with the opportunity to reassure consumers, putting their minds at ease.
According to a recent Data Essential report "Among those getting food from a restaurant, 47 per cent felt either nervous or at risk during their ordering & eating experience", despite this nearly "one in three consumers purchased food from a restaurant last week".
Going the extra mile to help consumers feel safer about their food choice can help maintain consumer loyalty and increase repeat visits (both online and in-store when social distancing mandates decrease).
In terms of health and safety procedures, regular sanitation of all areas that are frequently touched (i.e. door handles, counter tops and payment machines etc.) is necessary as well as ensuring all team members wear anti-bacterial gloves and masks. For more health and safety resources, see Restaurants Canada partner content here.
Some operators are going temporarily cashless to further limit interaction and possible contamination. Many are opting to reduce foot traffic by limiting the amount of customers who are allowed to enter for pickups and add markers inside and outside the restaurant to remind patrons of social distancing
We suggest including a few extras to each order such as Sanfacon's moist towellets and Sabert's individually wrapped cutlery as a convenient and safe way to dine and sanitize while on the go.
Most importantly, create a COVID-19 policy and communicate it to customers via e-mail, social media and on-site displays. By letting your consumers know about these measures you're taking and communicating the effort you are putting into operations to ensure safety, you're letting them know that it is okay to order delivery or takeout.
Streamline your Menu and Increase Delivery Options:
As you close down dine-in service to focus on delivery and takeout, consider how to pivot your menu and the adaptions to think about when doing so: 
Reach out to distributors and let them know that you will need to reduce your order volumes
As a cost-saving measure, temporarily remove items that are not ordered as frequently or may not fare well through delivery and pick up
Offer work-from home lunch specials and family dinner promos to loyal customers
Reach out to your neighboring businesses / restaurants and see if you can create a joint promotion to increase sales – after all we are all in this together!
Market gift cards and store vouchers to increase future visits
Offer free delivery, curbside pick up and contactless pick up options
Consider adding on produce, grocery, pantry items, and alcoholic beverages to your delivery menu
Maintain the Restaurant Experience On-the-go by Choosing the Right Packaging
Packaging is a huge portion of the safety of delivery and takeout. Look for collections with a wide portfolio of delivery solutions to optimize prep time and reduce handling by the packager.
The best options will offer these features: tamper-resistance, microwaveable, leak proof, refrigerator/freezer friendly, oven-friendly, compostable, or recyclable.
Choosing the correct material and corresponding lid are vital to preserve the meal's quality, appearance and taste through transport. For a menu with a variety of food options and styles, unique containers that are multi-compartment, taco trays, sandwich trays, bento boxes, family-style platters and drink carriers for hot and cold beverages are all excellent options.
Additionally, you can also give customers peace of mind that orders have not been tampered with by sealing containers and delivery bags with SecureIt™ tamper-evident labels.
Each label features security cuts which break to expose tampering, and an aggressive label adhesive quickly attaches to plastic, paper, foil, cardboard and more. To view the full portfolio of takeout container options, click here.
While we do not know how long this pandemic will last, we hope these tips will help to alleviate some of the effects on local businesses.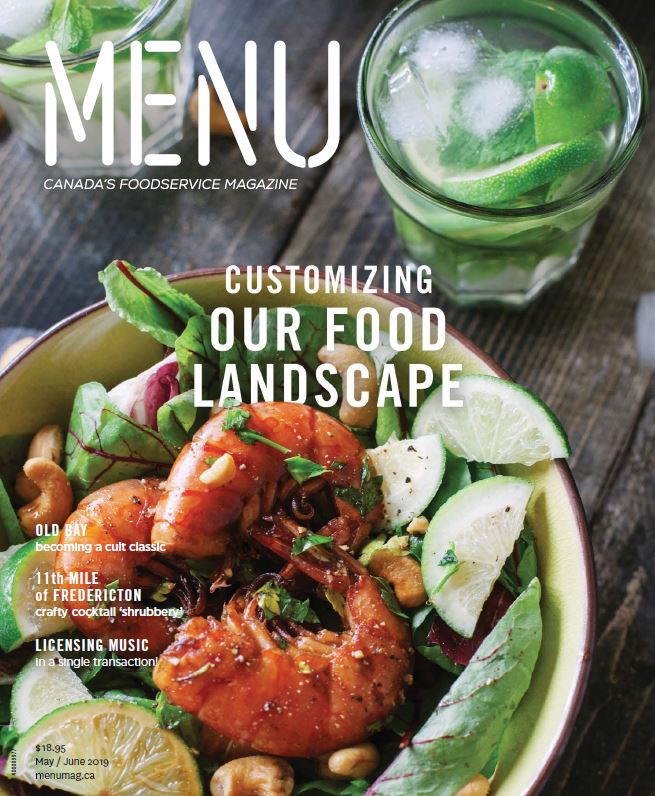 Originally published online at CanadianRestaurantNews.com on Feb. 28, 2017.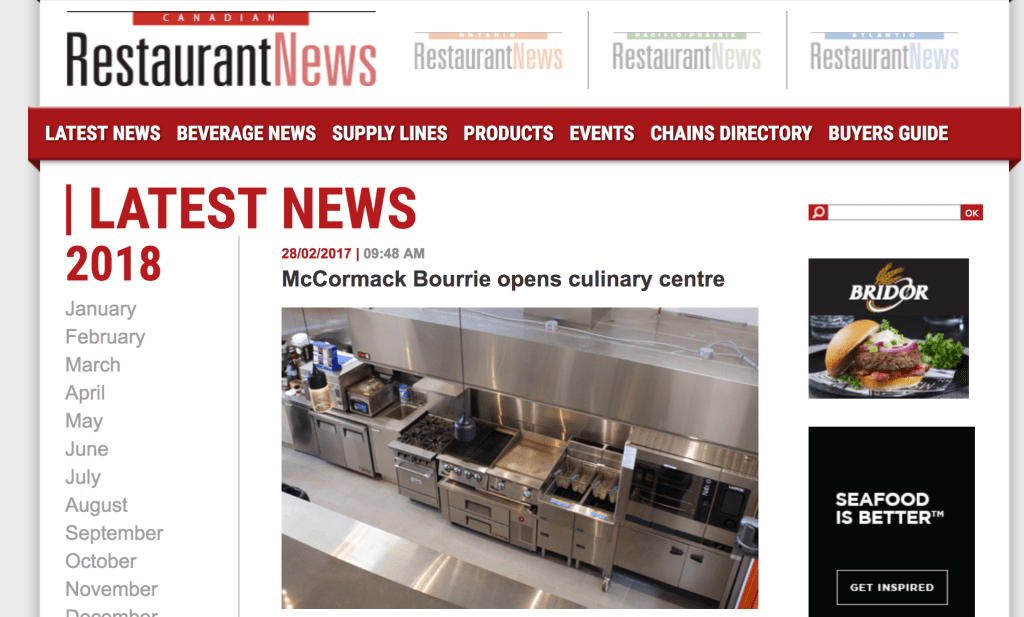 By Kristen Smith, Managing Editor, Canadian Restaurant News
CONCORD, Ont. — McCormack Bourrie Sales & Marketing has made a significant investment in the company's clients and partner brands with the addition of a test kitchen.
Located near the McCormack Bourrie offices at 160 Applewood Cres., the recently completed test kitchen features state-of-the-art audiovisual equipment, including the ability to record and live stream.
"This is another opportunity to take our company to the next level and to get closer to our customers," said president Paul Bourrie.
"We're looking at this as a reinvestment in McCormack Bourrie and our brand."
The culinary centre is designed to be flexible in its capacity and use. It can host small groups at a bar table for meetings or meals, as well as larger groups for training demonstrations or presentations.
The centre's video capability means attendees don't need to be in the room.
"We can use it for training videos, we can use it for internal sales meetings. We can have one of our brands in to launch a new product," said Bourrie.
Onsite equipment includes a combi-oven, grill, fryer, flattop and gas range as well as a sous-vide cooker and smoke gun.
"We're trying to bring in the new with the old; We've got all the normal stuff, but we've got some really cool new stuff," said Graham Hayes, McCormack Bourrie director of culinary services.
On the suggestion of a client, the test kitchen's equipment can be easily removed and replaced.
"Probably the biggest difference in this versus some other test kitchen is not only can we test food here, but we can test equipment," Bourrie said.
"If they want to ship in french fries and they want to try a new fryer, we can take the fryer out so they can test both at the same time."
Wanting to introduce the test kitchen to the McCormack Bourrie team and its 20 principals first, it was the location for company Christmas party in early December.
"It's not just a test kitchen, it also works really well as a venue to hold an event," said Hayes.
Since then, the culinary centre has hosted several events, including an annual conference for an Ontario restaurant chain.
"We even opened the door to our competitors. There were other brokers that were presenting at the same time, there were other manufacturers," said Bourrie.
"The goal is to help build the relationship with the customer, whether the customer be our distributor customers or operator customers."
Marking 25 years in business on April 1, McCormack Bourrie will hold a formal grand opening on May 4.
Recently adding the Tetley Canada and Gastronomy brands, the company represents 20 principals, none of which have their own culinary facilities.
"This allows them the same opportunity that some of the big brands have," said Bourrie.